Tea Tree Soap
Our Tea Tree soap contains 100% New Zealand Tea Tree oil with Antibacterial properties .
Coconut oil, lye, ethyl alcohol, sugar, aqua, stearic acid (vegetable), castor oil, glycerin, monopropylene glycol, tea tree essential oil, sweet tea.
Wet the bar and lather in hands or a washcloth. Wash your hands/body and rinse. Store your bar in a soap dish with drainage to allow to dry between uses, and away from water stream.
Our star ingredient that is used in nearly all our products, a great moisturiser with natural microbial properties.

All our products are handcrafted with love in New Zealand.

We source the highest quality ingredients and all our products are between 95 and 100% natural
We never have and never will use parabens in our products, instead we use natural preservatives such as Vitamin E.
All our products are SLS/SLES free, as these harsh foaming agents can cause skin irritation

We will never test our products on animals, only humans. All our ingredients are not tested on animals either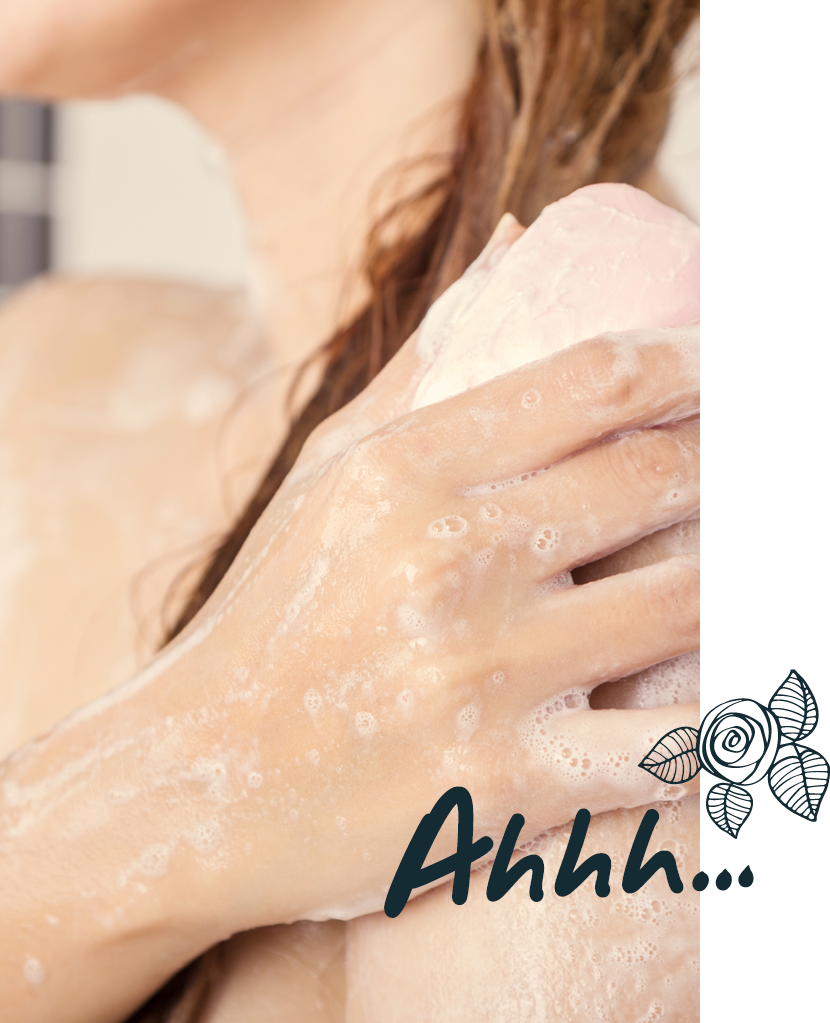 Coconut Oil- As well as having excellent cleansing properties, coconut oil nourishes and hydrates your skin, so our soap won't leave you feeling dry.
Glycerine- Glycerine is a naturally occurring component of oil or fats (we use a coconut derived glycerine) Glycerine is a humectant that draws water to the skin and helps retain moisture.
Castor Oil- Castor oil in soap helps create a rich and creamy lather. It is also a humectant that attracts and retains moisture in the skin
Tea Tree Oil- Has natural antibacterial properties and is great for oily/acne prone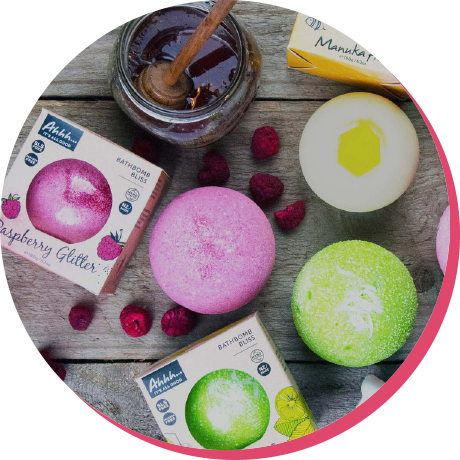 Frequently Asked Questions
Ahhh's core values are to be
- Natural (good for you)
- Sustainable (good for the planet)
- Accessible (conveniently in your supermarket)
We create fun and vibrant products that don't harm you or the planet.
Are your products natural?
All Ahhh products are between 95-100% natural. The reason some are less than 100% is because we do use a small amount of artificial fragrance in some products. However, these fragrances are 100% safe and certified phalate free. We use a mix of essential oils, naturally derived fragrance oils and safe phthalate free fragrance oils. We are proud to say all our products are SLS, Paraben and Silicone free.
What colour do you use in your products?
We use iron oxide pigments and mica powders which are either naturally derived or nature identical.
All our products are vegan except our Manuka honey range, anything with manuka honey or goats milk in the product title are not vegan. These are the only animal products we use. Please see individual product description for more information on ingredients.
How do I use a shampoo and conditioner bar?
It's easy! Simply wet the bar and your hair, rub the bar across hair a few times and lather (shampoo) or massage (conditioner) into hair and rinse thoroughly! The key thing to remember is to store your bars correctly and allow to dry out before your next use.
We aim to ship your order within 48 hours, please allow an extra day or two for rural deliveries. If you are ordering for a gift and would like it to arrive on a certain date please contact us with your order number at hello@ahhh.nz and we will do our very best to help. Please see our shipping policy for more information.
Ahhh products never have and never will be tested on animals. We only test on friends, family and customers. We ensure all ingredients used to make our products are not tested on animals either.
Is your packaging recyclable or compostable?
All our cardboard packaging is recyclable and home compostable, we are currently applying to be certified home compostable. We have to shrink wrap our bath bombs at present the material we use is recyclable and we are trialing a home compostable version which we hope to switch over to very soon!